(Article with contributions from Don Henry)
Unarguably, public safety is always a concern, and lately getting more attention from people all around the world, sadly because of the frequency of terrorist attacks occurring this year, especially in Europe. With the public feeling a threat of safety to their daily lives, many countries have started boosting up their security enforcement. Reliable wireless communication networks for first responders have been the top priority among action lists.
Today, there are two widely deployed network standards, TETRA (Europe and other parts of the world) and Project 25 (P25) (US), which support mission critical voice communications. Regardless of the technology, the target of these standards is to provide reliable and seamless network voice coverage for both outdoor and indoor environment. Specifically, indoor coverage is becoming more critical in highly populated areas like shopping malls, airports, and high rise office towers, for example. According to the National Fire Protection Authority (NFPA) and International Fire Code Council (IFC), a public safety network is required to achieve satisfactory voice communications coverage over 95% of the in-building area.
Unfortunately, good indoor network coverage is not guaranteed by using only outdoor cell or public safety base station towers, as the signal strength and quality will suffer from free air loss, and high building penetration loss. Therefore, a dedicated indoor coverage solution such as DAS is needed to address the issue.
Can indoor DAS be leveraged for public safety network deployment? What is the role of cellular networks in public safety?
Thanks to dedicated indoor solutions (e.g indoor DAS as shown in figure below), we enjoy good cellular coverage inside most buildings. So can we leverage the existing infrastructure to carry public safety networks?
Putting aside the potential conflicts of public versus commercial interests and the issues of governmental involvement (perhaps a topic as an entirely separate discussion) - the answer is certainly yes for data, and yes for critical voice communications, but there are some technical issues that need to be addressed. Take the US as an example, technical analysis is required to ensure there is no interference between public safety networks and cellular LTE networks allocated in 700MHz. In Asia, some of the public safety networks are carried on 400MHz band, and typically indoor DAS component may not support frequencies lower than 700MHz. And more and more public safety jurisdictions are now demanding that the public safety DAS is TOTALLY SEPARATE and STANDALONE, to ensure that they do not need to worry about interference from cellular frequencies, and that they do not need to worry about the cellular operators interfering with the operation of the public safety DAS in any way. From another perspective, indoor dedicated cellular networks can actually be a backup system to the public safety network, for non mission critical voice communications Because everyone, including first responders carry smartphones wherever they go!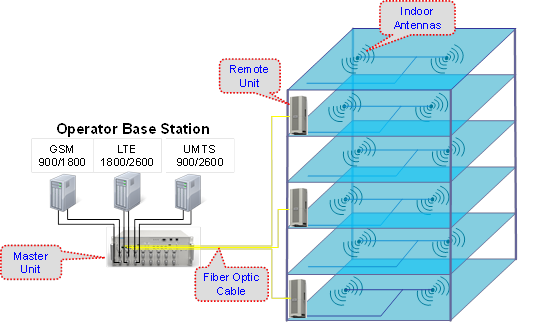 Will we eventually move from Tetra, P25 to LTE network?
Existing public safety networks such as TETRA or Project 25 (P25) support mission critical voice communication, but are limited to narrowband data. Mobile broadband such as LTE networks can enhance data availability for emergency services significantly, for example with live mobile video, situation awareness dispatching and remote diagnostics will be available. In the US, FirstNet has announced that LTE was the selected technology for mission critical mobile broadband communications. And just recently, AT&T was awarded the contract to begin the build out of the FirstNet LTE 700MHz network.
However, in order for LTE to satisfactorily fulfill public safety mission critical voice communications requirements, important features such as group communication, mission critical push to talk, proximity services, enhanced security, and network resilience have to be fully integrated into existing LTE networks, which have been defined clearly in 3GPP release 12 and 13 specifications as shown in the diagram below.

Public safety networks are built for worst case scenarios (meaning, they must ALWAYS work, and immediately = mission critical), while commercial networks are built for best effort (meaning, no threat to life or other dire consequences if a call does not go through). LTE networks must be ready to withstand challenging or unexpected scenarios such as natural disasters, or capacity issues like spikes in usage in order to become the next generation public safety network for voice.
In conclusion, in building coverage for public safety is moving towards:
A more robust indoor solution, with guaranteed performance
Leveraging existing indoor DAS to enhance public safety networks for data (and voice, under certain circumstances)
Migration of voice communications from existing technology to LTE appears to be a strong possibility, but will not happen in the near future – perhaps for many years