Established in 1997 and listed on the Main Board of the Hong Kong Stock Exchange in 2003, Comba Telecom Systems Holdings Limited (the "Company") is a global leading solution and service provider of wireless and information communications systems with its R&D facilities, manufacturing base, and sales and service teams. Leading through innovative technology, the Company offers a comprehensive suite of products and services, including Antenna and subsystems, Network systems (Wireless access & Wireless enhancement), Services, Enterprise networks, etc., to its global customers.
The Company has established its R&D headquarters based in Guangzhou Science City and has applied for over 5,600 Chinese and international patents. Our global manufacturing base, located in Guangzhou Economic and Technological Development District, covers an area of approximately 80,000 square meters. Our 5G antenna and filter manufacturing base, located in Guangzhou Zhongxin Knowledge City, covers an area of roughly 20,000 square meters.
Mission
Be a leader in innovation & development for wireless and information communications systems.  Strive to supply customers with superior total wireless solutions and services.
---
Brand Values
Professionalism, Integrity, Innovative, Reliability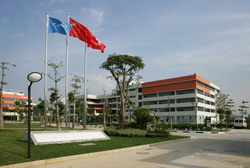 ---
Product Portfolio
Comba's core product portfolio includes antennas and subsystems and network products (DAS, Small Cells, Repeater, RRU, etc.), offering turnkey solutions for indoor and outdoor 2G/3G/4G/Wifi/5G to our global customers. Comba's services range includes consultation, network design, optimization, and commissioning. Together, this enables Comba to supply its customers with end-to-end wireless solutions that have been deployed all over the globe, including shopping malls, airports, sports stadiums, government buildings, and telecom operator headquarters. We strive to develop technology innovations for mobile operators and enterprises to enhance and extend their business value. In addition to its core business of supplying operators and industries with ubiquitous, high-capacity wireless networks, Comba is constantly reinventing itself and bringing new value-added solutions for the smart city and IoT era, amongst others. Comba offers a range of Open Radio products for the Open RAN ecosystem and brings ScanViS computer vision AI solutions to support smart city development.
---
Global Presence
The Company has established more than 30 offices in China and more than 10 overseas offices worldwide - APAC, MENA, Europe, CALA, India, the Americas and more, providing products and services in more than 100 countries and regions. Through its direct offices and distribution network, customers are assured of rapid support at all times.